Snaps Integrates With Yext To Enhance Enterprise Brand's Messenger Chatbots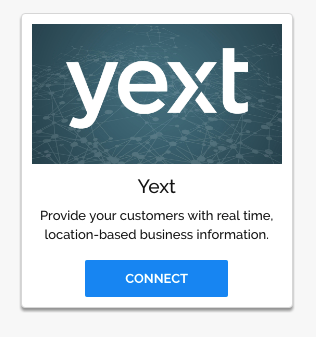 The integration lets consumers discover a brand's store hours, nearest location and more when chatting with a brand in Facebook Messenger.
Today, we're so thrilled to announce our partnership with Yext.
At Snaps, our enterprise chatbot platform empowers marketers to segment and engage customers through conversation across messaging and voice systems. One benefit of Snaps platform is brands can leverage existing tools and databases. With this new partnership, brands will be able to implement their Yext data within an individual's Facebook Messenger chatbot conversation with a brand.
Yext, the leader in digital knowledge management, puts businesses in control of all of the public facts that they want consumers to know across the intelligent ecosystem, letting companies manage their digital knowledge in the cloud and sync it across Google, Bing, Apple Maps, Yahoo, and 100+ services across the web. With the Yext integration, Snaps enterprise partners can seamlessly add a store locator, hours, and contact information functionality right into their Messenger chatbot.
Snaps is also featured in the Yext App Directory under the AI/Chatbot category. When an enterprise installs Snaps from the Yext App Directory, the integration links the Yext and Snaps account through OAuth, granting the app permission to read relevant data, and piping the data to Snaps.
Our CEO Christian Brucculeri says, "We are constantly seeking opportunities to create powerful capabilities for marketers, and valuable experiences for consumers. Our integration with Yext accomplishes both, allowing for retailers to easily extend their existing Yext partnership into messaging and voice experiences."
"Conversational UI is changing how brands interact with their customers, and powering these new tools with the most accurate and up-to-date business information is crucial to their success," said Marc Ferrentino, Chief Strategy Officer of Yext. "Yext's integration with Snaps makes it easy to create engaging conversational interactions that drive business growth."
To commence this partnership, we've launched this new integration with STA Travel, the world's largest student and youth travel agency. The STA Travel chatbot will help inspire travelers to find their next adventure. By highlighting top destinations and popular round-the-world routes, this chatbot makes it easy to connect with a STA Travel Expert to book their trip. The chatbot uses Yext data to point users to their local STA Travel office to book their trip.